The Global Spa Summit (GSS), the leading annual event for the spa and wellness industries, has formally announced the winners of its "Student Challenge" competition - which annually enlists students from major universities worldwide to create the spa concepts of the future. For 2010 the spotlight was on architecture, and students from the University of Southern California (USC) and Istanbul Technical University competed to design innovative, environmentally- and culturally-aware plans for a new spa/wellness destination.
Each year students first compete against others at their respective universities, and this year eight finalists were selected to present their concepts before a distinguished panel of judges and the Summit delegation, recently assembled in Istanbul, Turkey. The finalists competed for both cash prizes and global industry recognition.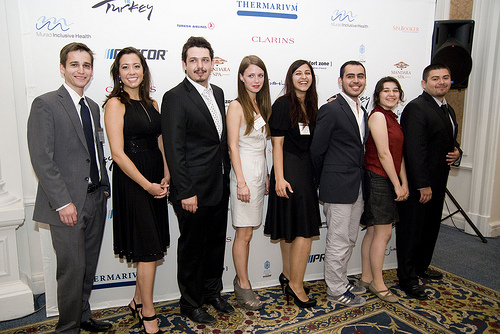 The Winners:
1st Place: Samuel Pitnick, University of Southern California ($1,000) 2nd Place: Nazim Kahraman, Istanbul Technical University ($500) 3rd Place: Natalie Shull, University of Southern California ($250)
A host of factors shaped the decision to keep the competition tangible and local, by situating it at a real Turkish site. Turkey boasts extraordinary natural spa resources, (ranking 2nd in the world in thermal springs, with 1,300), but only 5% of the nation's thermal resources are currently being utilized. And the Turkish medical/wellness and thermal tourism industries are surging, as the modern traveler increasingly seeks authentic, indigenous spa experiences and traditions. The specific site chosen, the town/region of Kula in western Turkey, provided an exceptionally rich context for the competition: a traditional 5th-century Ottoman settlement - famous for its volcanic landscape and geothermal resources - with spa traditions dating back to the Roman period - and a geothermal national park already being proposed.
Professor Richard Corsini (Director of the student projects at USC) described the Challenge: "In their architectural designs for a new spa/eco-tourism destination at Kula, the students were tasked with addressing the critical question of how a global market can interface holistically and constructively with a local culture and environment. And how creative new ideas for 'spa' and 'wellness' could really help revitalize a regional economy."
The Winning Projects:
Samuel Pitnick (USC): Pitnick inventively split the project into two components, spanning an in-town cultural/educational and spa/bathing center (featuring mineral/geothermal pools, traditional hamam and organic garden) to benefit local residents - integrated with a luxury destination spa situated on an extinct volcano north of town. Judges praised the design as unique in successfully bridging the divide between the community and the "official" spa destination, and sensitively taking into account the local economy and infrastructure.
Nazim Kahraman (Istanbul Technical University): Imagined as a 20-room spa hotel/healing center, the design focused on the free play between the "inside" and the natural setting without: interiors are exposed to lava flows and basalt columns, etc. – while natural thermal water resources are channeled through a series of healing/activity pools. The dominant shell-like roof allows fissures of light and exterior exposure throughout – large spaces are entirely open to lava flows - and trees 'walk into' the building. Judges praised the deft handling of the environmental context and the formal inventiveness of the design.
Natalie Schull (USC): With her concept "AgriSpa," an agri-tourism spa and culinary school situated on a dramatic plateau between Kula and the proposed geothermal park, Schull suggested bold new ways to imagine "cultivating, eating and living in nature." (I.e., guests participate in local farming - cook organic lunches together - energy is generated from solar/biomass sources, etc.) Designed as a prototype for the resurgence in local culinary, farming and cultural traditions, the judges praised its conceptual originality, and allowing the creative "vision" to define the architecture.
Other finalists presenting at the 2010 Summit included: Joe Martin Garcia and Whitney Joslin from USC; and Ufuk Kucukyazici, Emre Multu, and Naciye Nilay Kabas from Istanbul Technical University.
All presentations/project images are available at: http://www.globalspasummit.org/index.php/summit-2010/presentations The distinguished panel of judges included Anthony DiGuiseppe (President/CEO, DiGiuseppe Architects, USA); Dzigbordi Dosoo (CEO, Allure Africa, Ghana); Gustavo Filguieras (CEO, Emiliano Hotel/Architect, Brazil); Jeff Matthews (President & COO, Mandara Spa, Bali); Elmar Nagele (CEO/Owner, Thermarium, Austria); Oktay Orhon (Architect & Member, Board of Directors, Aksoy Group/Richmond Hotels, Turkey). The collective delegate audience (voting via audience response system) counted as the 7th judge.
This year's invitation-only Summit was held at the historic Ciragan Palace Kempinski Hotel in Istanbul in mid-May, and attracted a record number of delegates from the spa, hospitality, design, tourism and medical/wellness sectors – hailing from a record number of countries.
The 2010 Student Challenge was sponsored by Mandara Spas (a division of Steiner Leisure), which operates 45 branded spas in luxury resorts across Asia, Micronesia, the Middle East and North America. Each student's registration fees, as well as travel to/from Istanbul and lodging, was sponsored.
About Global Spa Summit: The Global Spa Summit is an annual event that attracts top-level executives and leaders from around the world with interest in the spa and wellness industry. Delegates from diverse sectors, including hospitality, investment, finance, real estate, medicine, manufacturing, technology, consulting, product, and other related industries attend this intimate, high-level gathering focused on advancing the spa and wellness sectors. With increased attendance by delegates from more countries each year, the Global Spa Summit was "sold out" (at 250 attendees, from 40 nations) in 2010.